DAMAS Consultancy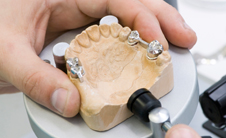 One of the widely reported stumbling blocks that prevent laboratories taking the steps to implement DAMAS is the initial work required to bring their companies policies and procedures up to the required level.
You have a few choices ranging from a real hands on approach whereupon you spend time implementing the system yourself from scratch to the opposite end of the spectrum where it is all done for you. During this article we will discuss the 'consultancy route'.
Consultancy
Many labs are now choosing to employ the services of a consultant to implement DAMAS. The benefit to many labs is that this is a less hands on approach for the laboratory owner therefore enabling them to get on with the business of running the laboratory.
But what would a consultant typically do?

A consultant would generally assess your laboratory's current processes and procedures and gather information to enable them to tailor-make a DAMAS quality system to specifically meet your laboratory's needs.
This process would typically take 5 days depending on the size of your laboratory, 3 days on site and 2 days off site production work of the quality manual.
During the process the consultant will work closely with the laboratory owners and staff with the aim of everyone working together so that the end result is a system that fits in with your laboratory's unique requirements.
There is obviously some work for the laboratory to undertake but this will be minimal and generally be in the form of gathering information for example on suppliers and subcontractors, but this will be directed by the consultant at all times.
The end of the consultancy process will normally be concluded with training of all relevant staff and the conducting of an Internal Audit to ensure the system is in conformity with DAMAS. This will then be followed by the formal audit by the Certification Company whereupon you will then receive your DAMAS Registration Certificate.
Verifiable CPD
Undertaking this route towards DAMAS also allows you to obtain verifiable CPD depending on your involvement with setting up the process in conjunction with the consultant.
Typically a laboratory owner that works alongside the consultant through the process can achieve 20 hours verifiable CPD. Other laboratory staff can achieve lesser hours depending on the involvement and training in the DAMAS system they have undertaken.
If the consultancy route is something you would like to investigate further for your laboratory then contact the DAMAS Office for further information.